IFSE and YouTestMe's Partnership for Secure, Multilingual and Proctored Online Testing
About IFSE
IFSE Institute (IFSE) is the educational arm of The Investment Funds Institute of Canada (IFIC) and a leader in financial services education. IFSE offers competitively priced education and training for industry professionals, students, and people looking to work in the financial services sector. Empowered by IFSE training, our students open new doors for their careers. In addition to providing exceptional value to our clients through relevant, high-quality learning at a reasonable price, we offer a high-touch, personalized customer experience. 
The Challenge
IFSE manages several proficiency exams for multiple registration categories and conducts tens of thousands of tests annually in various locations across Canada and in different time zones. Tests are offered in both English and French, and delivered in a variety of modalities including paper-based and computer-based in both test centres and online.
The process of administering numerous exams in such large volume, in different locations, languages, and formats can be time-consuming and complex.
IFSE required an end-to-end examination solution that could handle the following challenges:
House and categorize a large number of exam items and deliver a multitude of tests.

Migrate historical data from the old to the new system.

Deliver exams online with the option to have automated or live proctoring.

Offer a test delivery platform with embedded security features.

Provide a bilingual user interface and services that would allow test-takers to write exams in the language of their choice.

Automate processes such as dynamic exam generation, results reporting, etc.
Finding a vendor on the market who could address these challenges was difficult.
The Solution
IFSE chose YouTestMe as its exam administration and delivery vendor. YouTestMe GetCertified offers a unique set of features and services.
YouTestMe's software is a secure solution that provides a seamless testing experience. With advanced automated and live proctoring features, YouTestMe minimizes the risk of cheating and ensures the validity of test results.
Additionally, the multilingual features of YouTestMe enable users with any security role to easily use the application in their preferred language. The interface and test content automatically activate in the chosen language, making it easy for students to take tests in their preferred language.
This complete localization of testing also allows for combining all reports into a joint summary report, regardless of the language used.

From a smooth onboarding process to a successful production

○ Onboarding phase
The goal of this phase was to ensure that IFSE's employees have a smooth transition to the new production environment.
The steps taken to achieve this were as follows:
Implementation of the system adjustments to thoroughly address all special cases.

Organization of all user training materials for the IFSE staff in the dedicated help center. 

Integration with the learning management system where students pay for tests and then transfer seamlessly to YouTestMe for test delivery.

Import of tests and necessary historical data using custom-made and efficient YouTestMe data loaders.
○ The Production Phase
The goal of the production phase was to transition IFSE's online automated and live proctor tests to the YouTestMe system.
The process works in the following way:
The administrator sets up the exam rules: the deadline to book the test, the deadline to cancel the previously booked test, etc.

The content administrator creates tests and question banks for the various exams.

For live proctoring, customer support schedules testing sessions. 

Students book into a pre-set session and click on their exam link on the respective date and time.

The proctoring mechanism is activated at the start of the exam. The students' preferred language is automatically displayed each time they navigate to the system.

YouTestMe bilingual proctors monitor students during the test in real time and provide a detailed report of their behavior to IFSE.

For automated proctoring, an AI-based proctoring mechanism is activated whereby students are monitored by the system.  

Technical support is available 24/7 to assist students. 
By using YouTestMe software and staff, IFSE was able to expand how it delivers exams to its students in a convenient manner.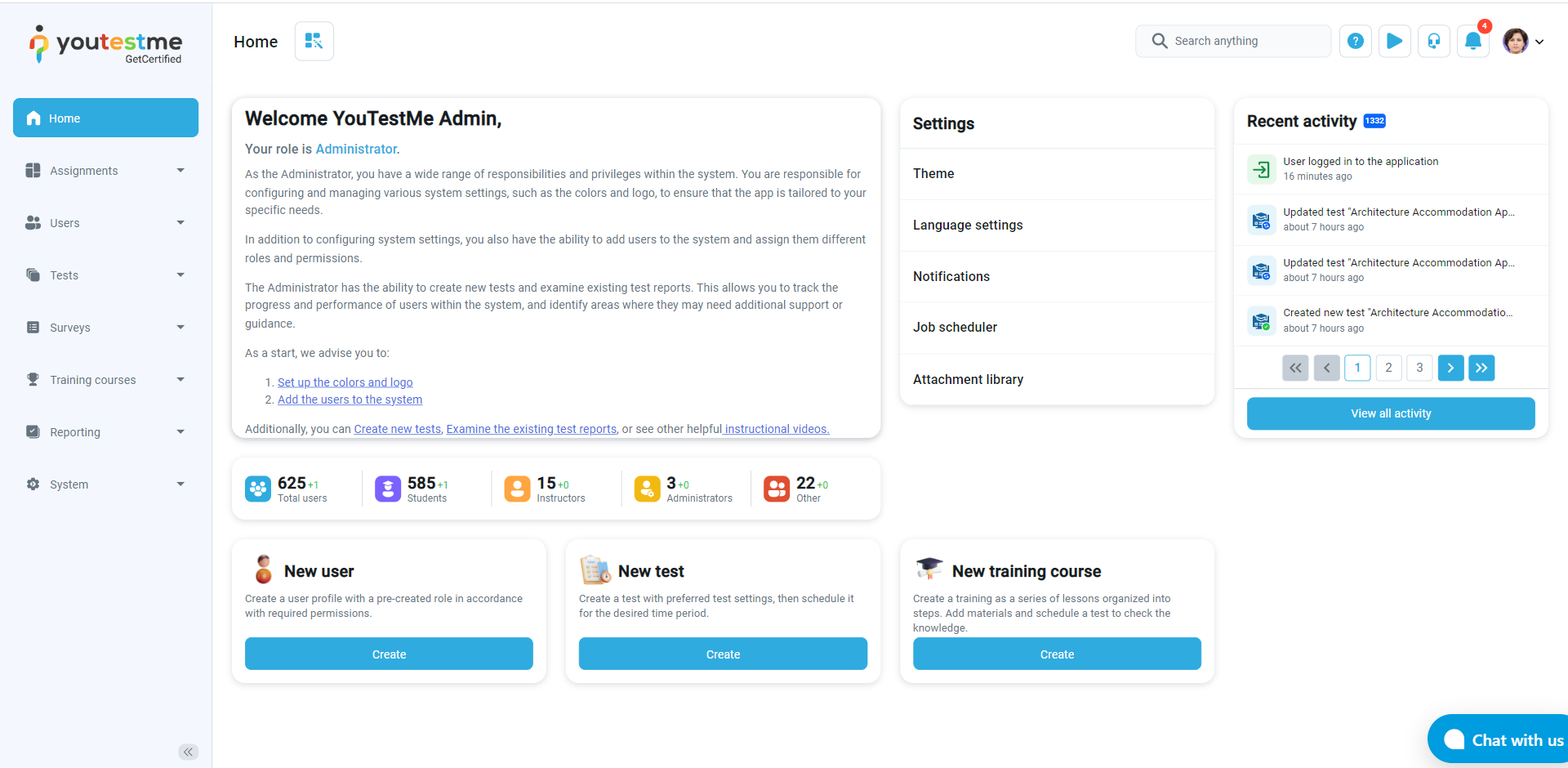 The Convenience of Remote High-Stakes and Medium-Stakes Testing with YouTestMe
In addition to the increased efficiency of the testing process, the convenience of test-taking for students must be emphasized:
Students can take the test from the comfort of their office or home.

There is no requirement to travel to test centers and enables students in remote locations the ability to test.

The system is set up to send reminder emails along with helpful information regarding test rules.

Before the actual test, students can perform a systems check on their equipment, validating their web camera, microphone, screen sharing option, and browser compatibility with the system.

YouTestMe technical support is on hand to assist students with the application.
Conclusion
The successful partnership with IFSE Institute is founded on continuous system improvement to meet all client requirements. By working with the YouTestMe Online Testing Center, IFSE can manage more test-takers in a secure online environment, helping even more people who seek affordable financial education and training.
The solution includes:
Integrations

Data migration

Test preparation

Booking & e-commerce

Secure testing environment

Supervision by certified proctors

Advanced reporting

Localization
YouTestMe is the ideal solution for those who want to conduct high, medium, and low-stakes examinations remotely and offers many advantages over traditional testing centers. Choose YouTestMe for a reliable, convenient, and cost-effective solution for your testing needs.

We look forward to helping you achieve your goals and succeed in your endeavors!
Our Test Library is available for you to explore!
We  invite you to try out some of our tests for yourself and experience them firsthand.