Worldwide
Testing Center
Connecting the world through quality testing.
Ready to take your high-stakes exams to the next level?
If you need a solution that eliminates the need to conduct high-stakes examinations in physical testing centers, look no further.
We've developed a state-of-the-art platform that can handle massive volumes of testing, no matter where you are in the world. Our expert team works around the clock to ensure that your testing needs are met quickly, precisely, and accurately.
We have data servers strategically located around the world to ensure optimal performance and reliability. The locations of our data servers are shown in the picture above, allowing you to choose the server that is closest to your location for faster and more efficient testing.
How it works?
1. Send your exams, certificates, and candidate list (in any format) for us to import into your platform.
2. Send us the exam rules and exam dates.
3. Send us the email notifications you would like candidates to receive.
4. Specify the intervals for email reminders for the upcoming exam.
5. Specify the details for the candidate's score report.
6. Specify the reports you would like your team to receive via email.
Let our customer success representatives do their magic!
The outcome will be the following:

Your team will not have to configure anything.

Candidates will receive emails with personalized exam links.

Your administrators will receive their reports.

Our 24/7 support will be available every step of the way.
Experience the power of seamless integration
Use Case:

The Stress-free Way to Host International
Exams and Competitions with YouTestMe
TeenEagle, a worldwide English language competition for students aged 8 to 18, was efficiently executed using the YouTestMe platform. The client's onboarding process took only 5 days.

The YouTestMe platform provided a personalized encrypted link for students to access the test, eliminating the need for usernames and passwords and making the process much easier for a large number of candidates.

With servers located around the world, the YouTestMe platform was able to support participants from 44 different countries, demonstrating its global scalability and reach.

Teachers received email notifications with links to certificates, while students received email notifications with links to their results and certificates, streamlining the certification process.

The online exam system was white-labeled with TeenEagle branding, providing a seamless and professional experience for participants.

YouTestMe' excellent customer support provided fast assistance to students and organizers, resolving issues quickly and ensuring a stress-free experience for all involved.
Our platform was instrumental in the success of the TeenEagle competition, providing a user-friendly and efficient system for students and organizers alike.
Find out more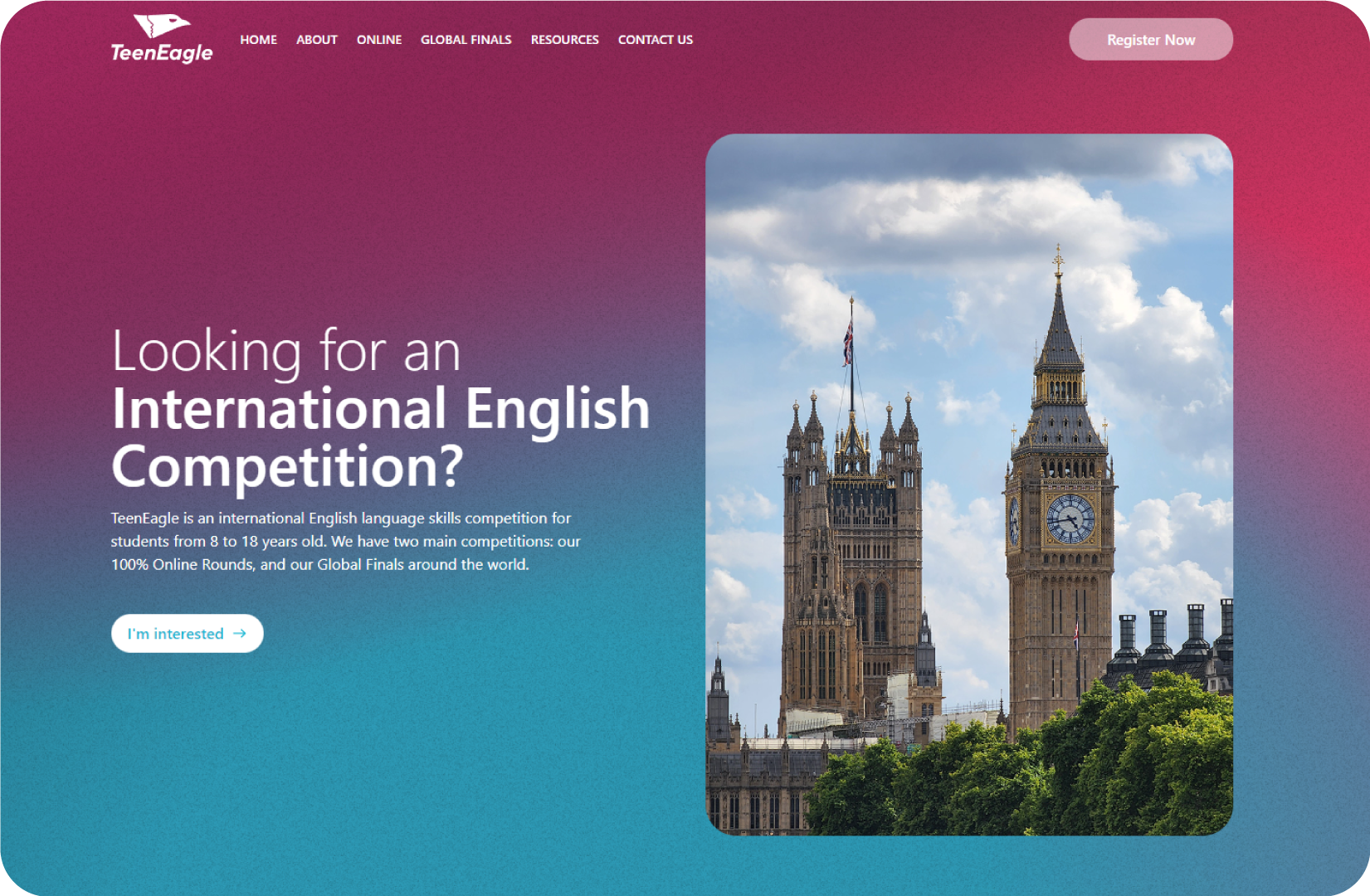 SUPPORT FOR ALL USERS
24/7
Trusted Partner for Online Assessments
Assure Exam Integrity with Our Proctoring Services
Automated proctoring
The AI-based Record & Review model uses behavioral trackers to monitor and record test attempts. The system generates a credibility report and stores the exam footage for optional human review. Before the exam, the software conducts equipment checks and authenticates the candidate with ID verification if enabled. Candidates are monitored in real-time through their web camera and any suspicious behavior is flagged.
Find out more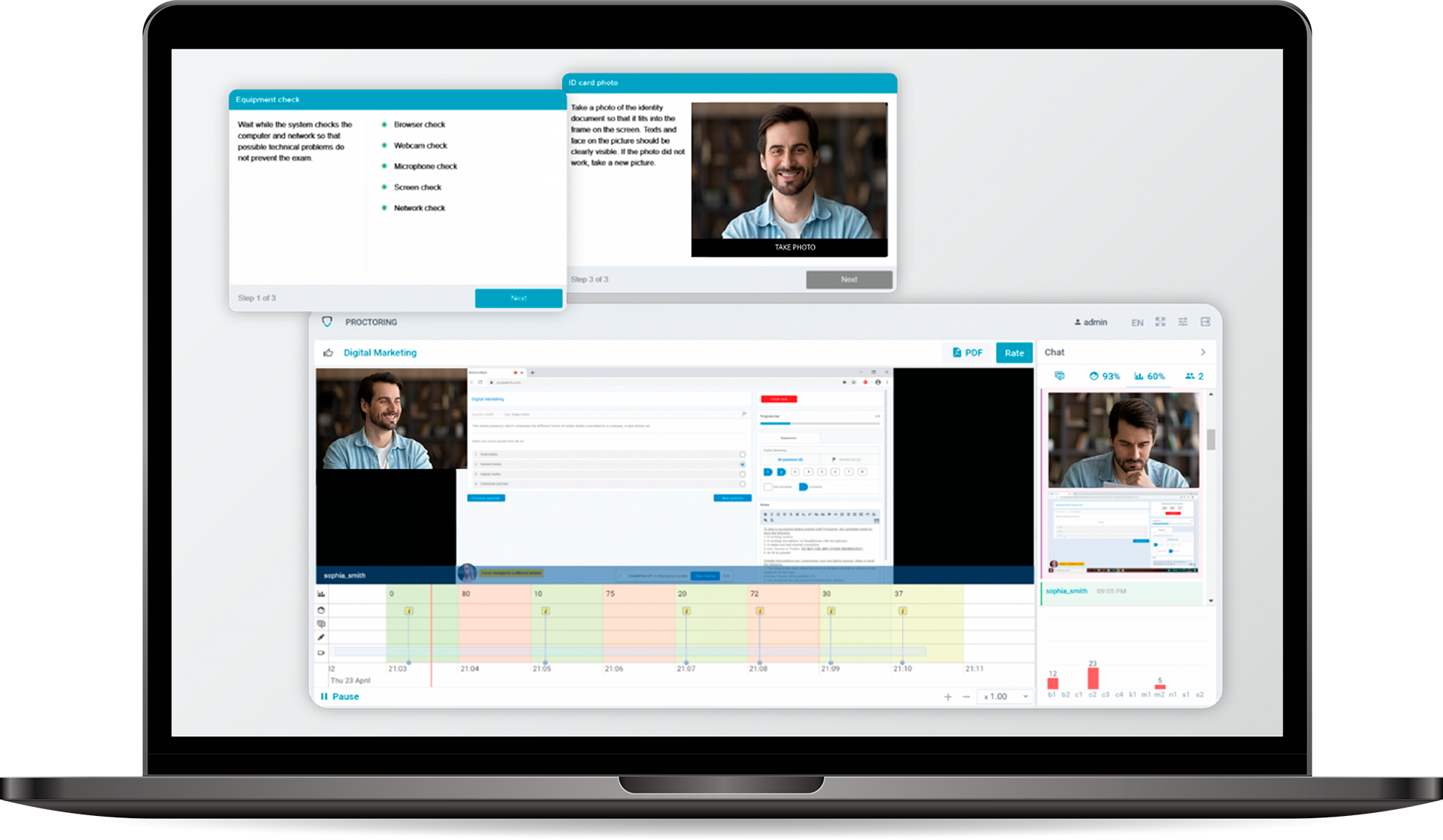 Live proctoring
Our hybrid approach, combining human oversight and advanced technology, minimizes cheating and ensures the integrity of your tests. Trust in our certified proctors, trained to supervise exams with fairness and intervene as needed. With a recommended 25:1 proctor-to-candidate ratio, rest assured that exams are monitored in real time for maximum security. Choose the convenience of either English or French-speaking proctors.
Find out more
Use Case:

Streamlining Multilingual Tests Across the
Network with Automated, Uniform Approach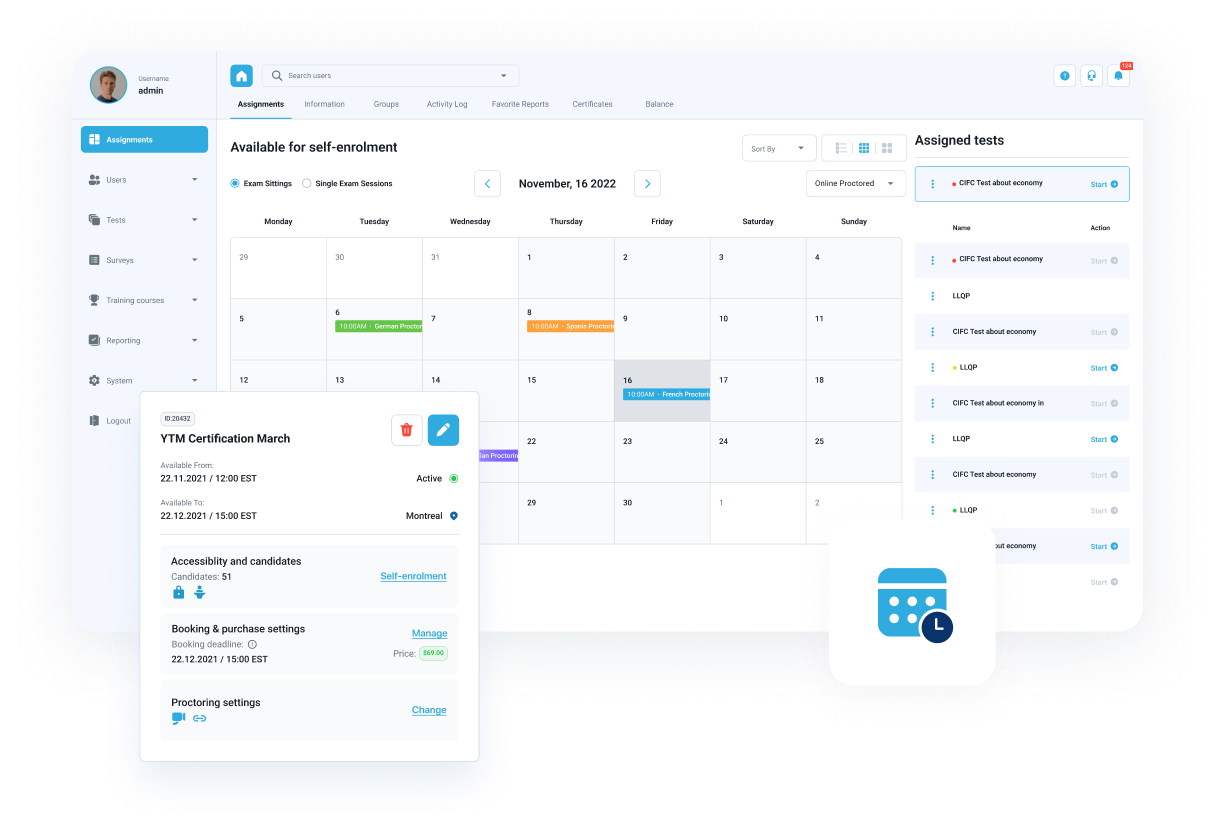 The largest non-profit organization that prepares young people for employment & entrepreneurship, uses our software to streamline and simplify the process of conducting tests in multiple languages. Our solution was designed to cater to the needs of multiple organizations within the organization network. This allows them to have a uniform and standardized approach to organizing tests across their entire network, regardless of the number of organizations involved.

Automatic, multilingual, multinational, and uniform organization of tests: Our solution automates the process of organizing tests, making it easier and faster for organization to conduct tests in multiple languages across multiple countries.

Same test translated into appropriate language for each country: For each different country within the organization network, the same test is administered, but translated into the appropriate language for that country. This eliminates the need for creating separate tests for each country, saving time and resources.

Each country has its own country admin to manage candidates: This allows for local management and control, ensuring that the needs of each country are met.

Supports time zone preferences: Tests can be organized in accordance with the location of the candidates. This ensures that candidates can take the test at a time that is convenient for them, regardless of their location.

A single test can be organized in multiple sessions with time zones in accordance with location: This makes it easier for organization to conduct tests in multiple locations, without having to worry about coordinating time zones.
24/7 we've got you covered
We offer multiple channels of support to ensure that you can get help in the way that works best for you. Whether you prefer to chat, email, or speak with someone over the phone, we've got you covered.

Experienced support team: Our support team is made up of experienced professionals who are well-versed in our software and can provide expert guidance and support.

24/7 availability: Our support team is available around the clock, every day of the year. Whether you encounter an issue in the middle of the night or on a holiday, we're here to help.

Chat support: Our chat support service allows you to quickly connect with a support representative who can help you with any questions or issues you may have.

Email support: Our email support team is trained to handle a wide range of issues and can provide detailed responses to your questions.

Phone support: If you need to speak with a support representative directly.
Security and reliability
YouTestMe has measures in place, such as secure login systems, encrypted data storage, as well as online and AI proctoring, to ensure the security and reliability of our platform.
User-friendly interface
A platform with an interface that is easy to use for both the exam administrators and the test-takers improves the overall examination experience.
Customization options
High-stakes global exams often have specific requirements and guidelines that must be followed. YouTestMe offers customization options to allow exam administrators to create exams that meet these requirements, such as custom question pools, time limits, and grading systems.
Scalability
With a large number of test-takers, a platform must be able to handle high volumes of traffic and data. YouTestMe has robust infrastructure and scalability capabilities to ensure that the platform can handle the demands of high-stakes global exams.
Support and customer service
In the event of technical issues or other problems, a platform should have a reliable support system in place to assist exam administrators and test-takers. YouTestMe offers 24/7 support and customer service to ensure the smooth operation of our platform.
Meet our Proctors
A team of more than 50 people, are there to assist you at all times!
How it works
In few simple steps:
Book time for your exam
Provide us with questions and test configuration details
Provide us with the list of candidates
Choose the preferred language for the test, interface, and proctors
YouTestMe success team that creates your test and assigns proctors to sessions
YouTestMe proctors welcome your students and monitor them during the whole process
After the session end, you receive all reports: candidates' scores achieved,
proctor's report, and credibility report generated by our AI proctoring system