This article explains how to set the limit of rescheduling requests and how to review and handle those requests. Candidates can self-enroll for testing, and after booking a session, they have the ability to reschedule it.
Set the limit of the free reschedules #
To limit the number of rescheduling requests that a candidate can make:
Click on the "Tests" page.
Choose "Manage tests" option. Enter the test you want to edit.
Once you enter the test, navigate to the "Settings" tab.
Choose the "Pause and repeat settings".
Mark the "Enable limited number of free reschedules".
Set the number of free rescheduling requests that a candidate can make. To better explain, we will use the example for 1 free reschedule.
Click on the "Save" button to save the changes.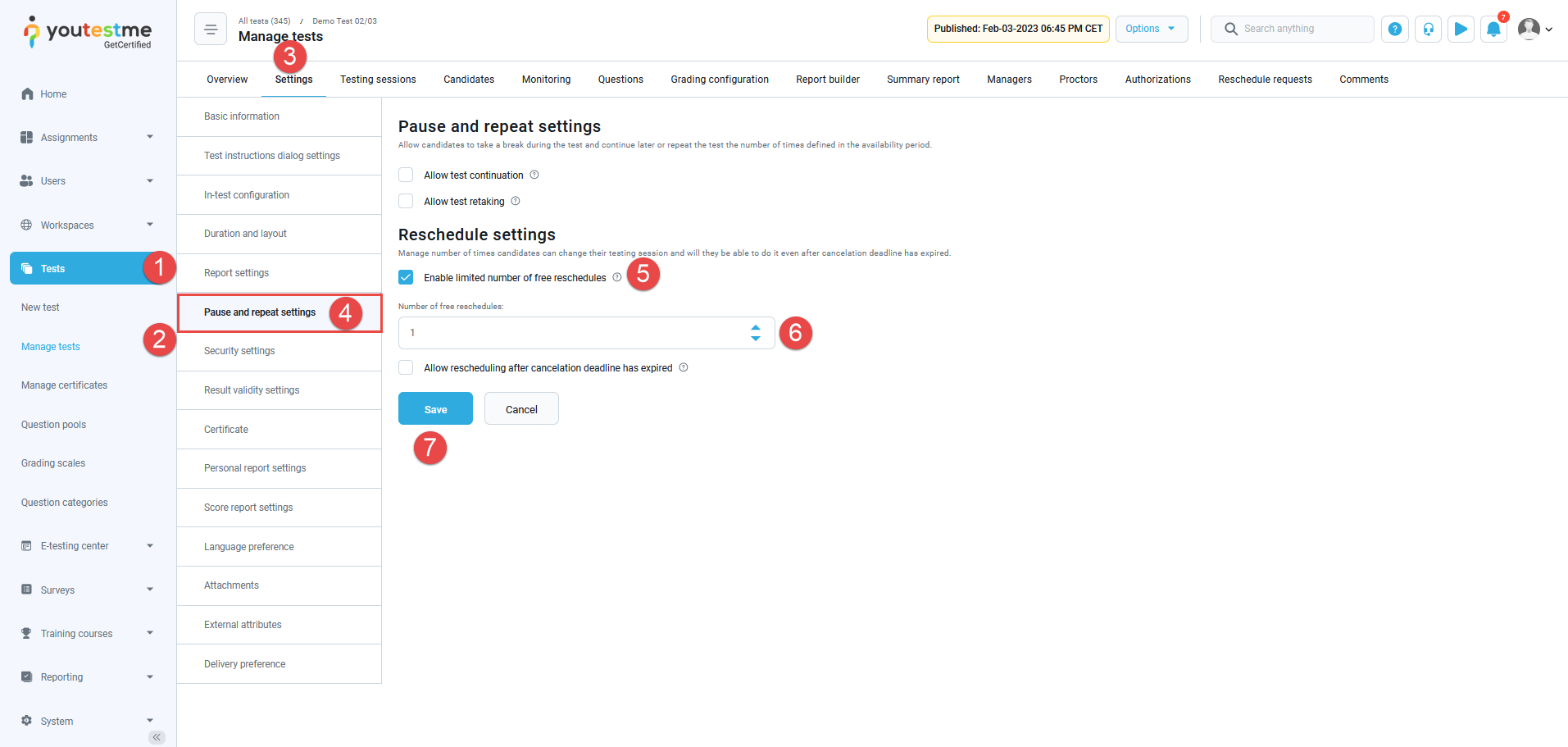 It is important to note that setting a limit on rescheduling requests is optional, but it is a useful tool for administrators who want to maintain control over the testing process.
In our example above, we limited the number of free reschedules to 1. This means that candidates will be able to make one free rescheduling, but for any subsequent rescheduling requests, they will need to send the request and provide valid reasons. For more information about how that functions from the candidate's perspective, check this article. When a candidate requests to reschedule a test, the administrator will receive a notification and be able to approve or decline them.
How to approve or decline requests #
To approve or decline the request, enter the test and navigate to the "Reschedule requests" tab.
  In this section, the administrator will see all rescheduling requests that have been sent by candidates, as well as already "Approved" and "Declined" requests. The new requests will be in the "Pending" status, waiting for its approval or decline.
To view a request, the administrator can click on the "View" action.

The "Reschedule request" window that shows all the details of the request will open. The administrator can:
Check the reason of the rescheduling and the request message.
View the attachment and click on the picture to zoom it.
View the requested session name and date.
View the test name.
Enter the conclusion message.
Resolve the status of the request.
Current status of the request.
Click on the "Save" button.
This feature gives administrators control over the number of free rescheduling requests that candidates can make and allows them to easily approve or decline all other requests. By using this feature, administrators can maintain a smooth testing process and avoid any potential issues.
For more useful instructional materials, please visit: