This article aims to provide a complete guide to organizing a specific test using the lockdown browser and test generator.
HOW TO PREVENT CHEATING IN ONLINE EXAMS?
http://youtestme.com/how-to-prevent-cheating-in-online-exams/
Please check this article to find out how to configure your own mail server.
Adding users
There are three ways to create profiles for users:
Creating a Test
To create a test using the Test creation wizard. This will lead you through the process of creating a test step-by-step.
Select the Tests tab in the main menu and the New test tab to access the test wizard.
To see how to create a simple test, please watch this video.
To create a secure generated test, do the following:
In the test, the wizard selects the Settings tab.
Select Security settings.
Enable the Enable lockdown browse option.
To see how to enable the lockdown browser, please watch this video.
By enabling this option, the users will not be able to cut, copy, save or print anything from the screen during the test-taking process. Also, the web browser will be in full-screen mode, and if the users try to minimize it, the test attempt will be terminated. It disables candidates from switching screens and tabs, right-clicking, or making screenshots.
Please watch this video to see how to create a test using a test generator.
By enabling this option, you will prevent students from copying the entire answer sheet / multiple-choice tests are, without a doubt, the easiest to cheat on.
Assigning users
The Testing sessions feature gives you flexibility when organizing tests for different groups of users in various locations.
To assign users to a testing session, do the following:
Select the Testing sessions tab.
Select the desired session.
Click on the Add candidates button.
Select the desired candidates.
Click on the Confirm button.
To see how to schedule tests through testing sessions, please watch this video.
Pulling reports
The reporting module provides over 40 types of predefined reports on users and tests and an indefinite number of custom-tailored reports generated using our Report Builder and advanced search options.
In the Report builder tab, you can:
Load the report columns' settings from a saved report template.
Create a new custom report by checking the options from the list. Each selected option will be featured as a column in the report table.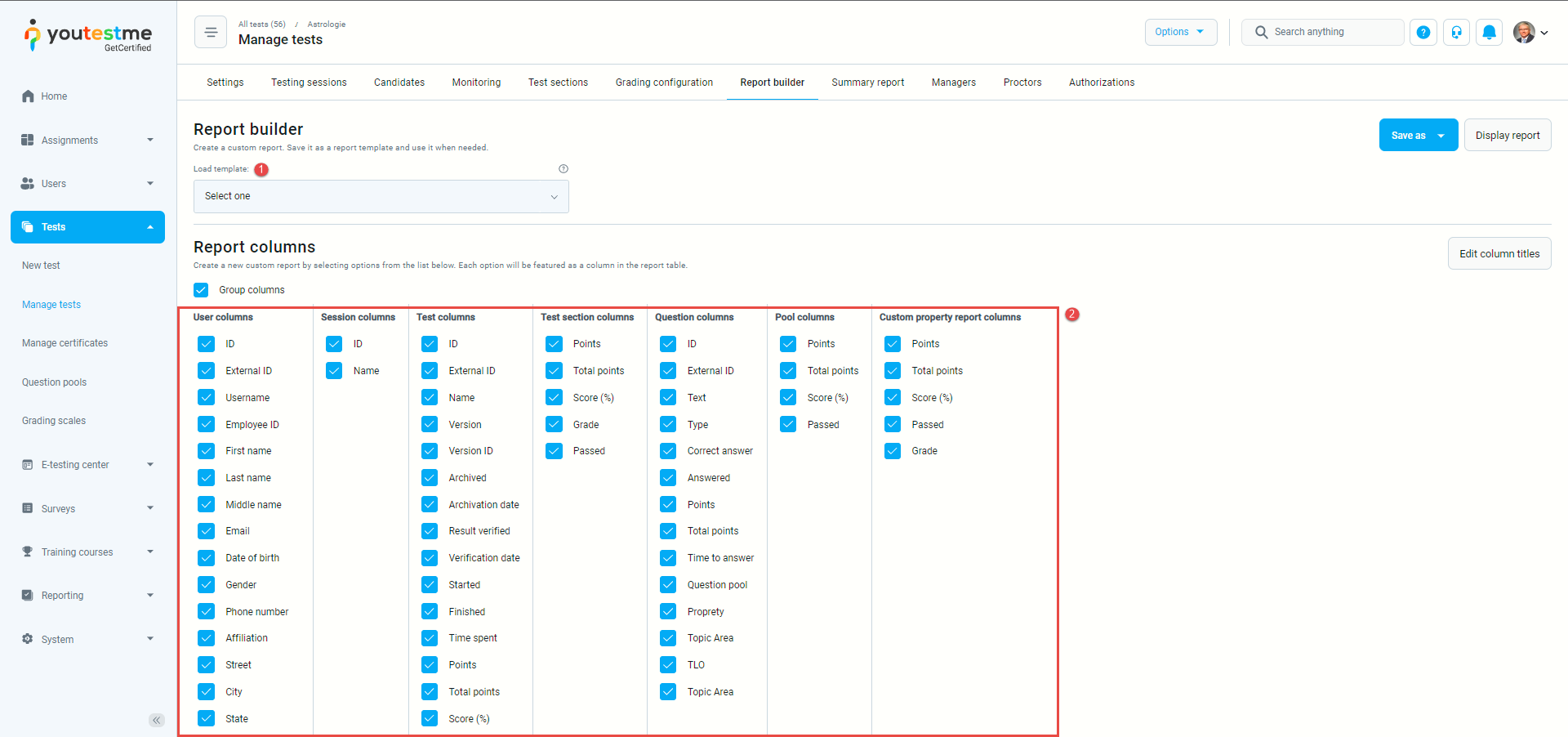 Advanced search
The advanced search allows you to build structured queries. The simple filter displays the results according to the chosen column, criteria, and value. The group filter represents more filters' conjunction (AND) or disjunction (OR). Negation can be applied to any filter.
To see an overview of available reports, please watch this video.
For more information on how to set up a completely secure test, please see: