This article explains the existing default roles in the system and how to create a group manager security role using permissions.
Accessing the page
To access the "Roles and permission" page, hover over the "Users" tab in the main menu and select "Roles and permissions". 
Predefined roles
There are four default roles in the system:
Administrator – An administrator is a role that has all the permissions in the system. An administrator manages all modules in the system.
Instructor – An instructor role is a role with higher-level permissions than a regular user. Instructors can manage their groups, pools, tests, and reports but can only view the content not managed by them.
Student – A student is a user with basic permissions in the system. A student has permission to take tests, surveys, and training courses. Also, a student is allowed to view and print personal certificates.
Proctor – Proctor role has higher-level permissions than a regular user. Proctors can view the tests where they are assigned as proctors and can follow the candidate's progress on these tests.
Creating a new role
To create a new role:
Click the "New role" button.

Enter the role name.
Enter the external ID. (optional)
Enter a description. (optional)
Select the permissions you want the group manager to have. We suggest selecting permissions from 17 to 20. Permission 1 is always selected.
Click the "Save" button.
Assigning the group manager role to users
Once you create a group manager role, you can assign it to the user:
Open the desired user's profile.

On the "

Information

" tab, select "

Account information

" from the side menu.

Change the user's role.
Click the "Save" button.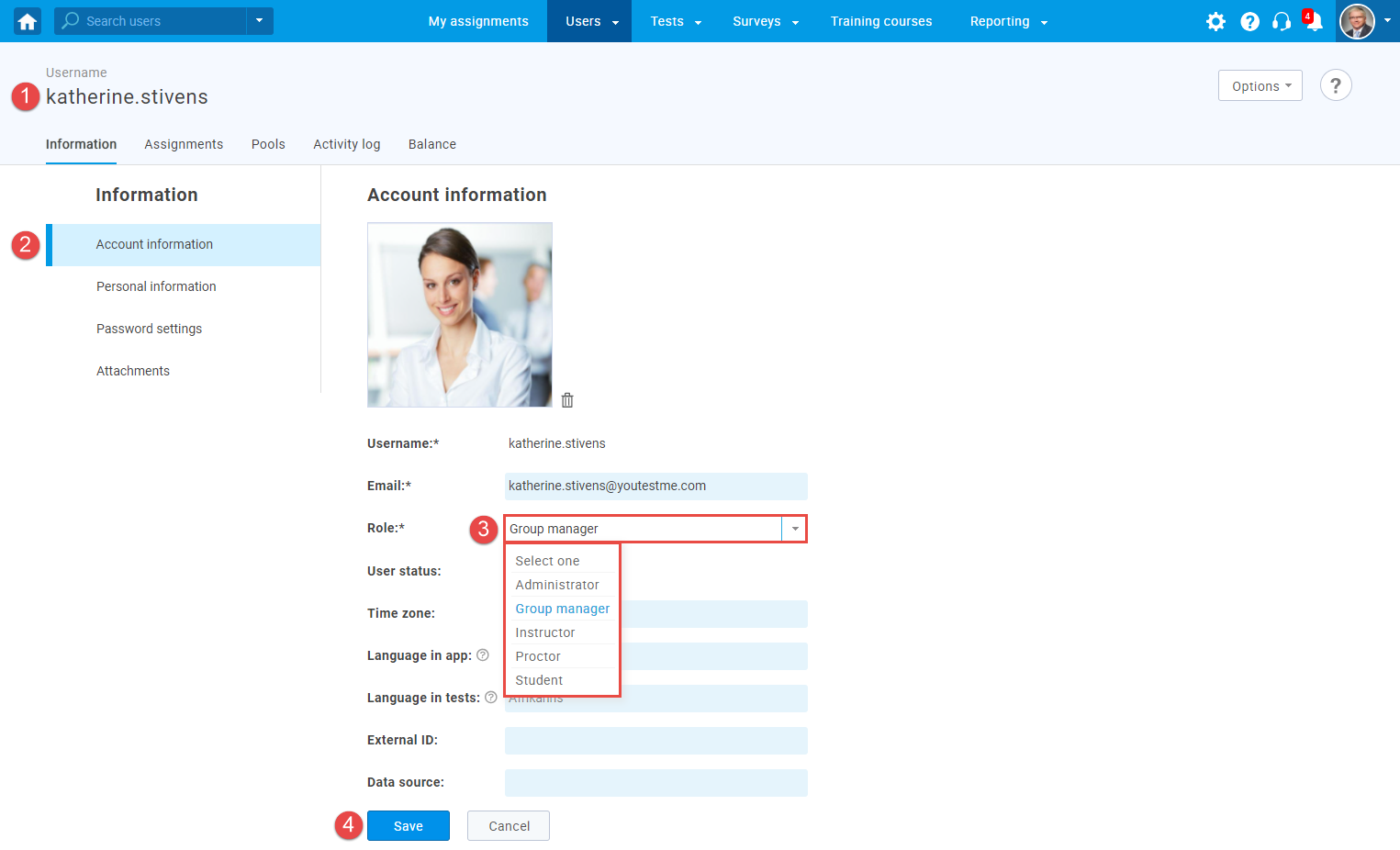 For a video tutorial on how to create a user group manager role, please watch the video.
For more useful instructional materials, please visit: